Prof. Dr. Asghari Bano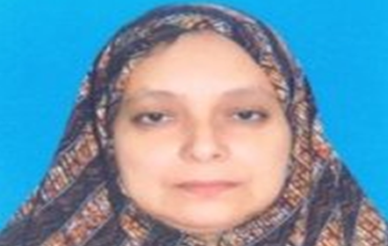 Professor Dr. Bano (retired) is serving as Head Botany at the Institute of Natural and Management Sciences. She obtained her M.Sc from University of Dhaka, Bangladesh and Ph.D in Plant Physiology from University of Glasgow UK. She did her postdoctorate research in Microbial Biotechnology utilising Alexander von Humboldt Stiftung from Germany and Fulbright Fellowship from University of Illinois USA. She served Dhaka University for 2 years and Quaid-e-Azam University for 29 years in various capacity as Chairperson and Dean Faculty of Biological Sciences.She had produced 38 Ph.D and 114 M.Phil. She hade published 175 research papers in national & International journals and 6 book chapters, which have received 150 impact factor with more than 500 ISI citation.index.
She was awarded 6 competitive Research Grants at both National and International. She was honoured with several National and International Awards viz. UNESCO ROSTSCA award, Hamdard Foundation award , Star Women Award,award of Gold Medal by Pakistan Academy of Sciences and Presendial Award Tamgha-e-Imtiaz .
She have been granted with 3 patents and got 2 patents accepted. She had formulated a biofertilizer which can reclaim saline soil and also prepared a biofungicide .which can supplement 50% use of chemical fungicide. She had organised 3 International symposia. She served as Secretary General and Treasurer Pakistan Botanical Society 2012.
She had participated in 40 national and International Conferences/symposia and established National and International Collaborations. She is a frequent visitor of different Universities to conduct Viva Voce examinations for M.Phil and Ph.D; also served as External examiner for evaluating Ph.D thesis from India, Bangladesh and Malaysia. She served as an expert in the Selection Committee; Fulbright Programme,USA and DAAD Academic Exchange Programme Germany.